5 steps to the massage chair
Here we have summarized for you useful information about each of our 5 steps in detail. From the first thought of a massage chair, through the purchase, delivery to your home or business, to warranty and care. Read everything you need to know here.
Step 1
Wishes, requirements, prerequisites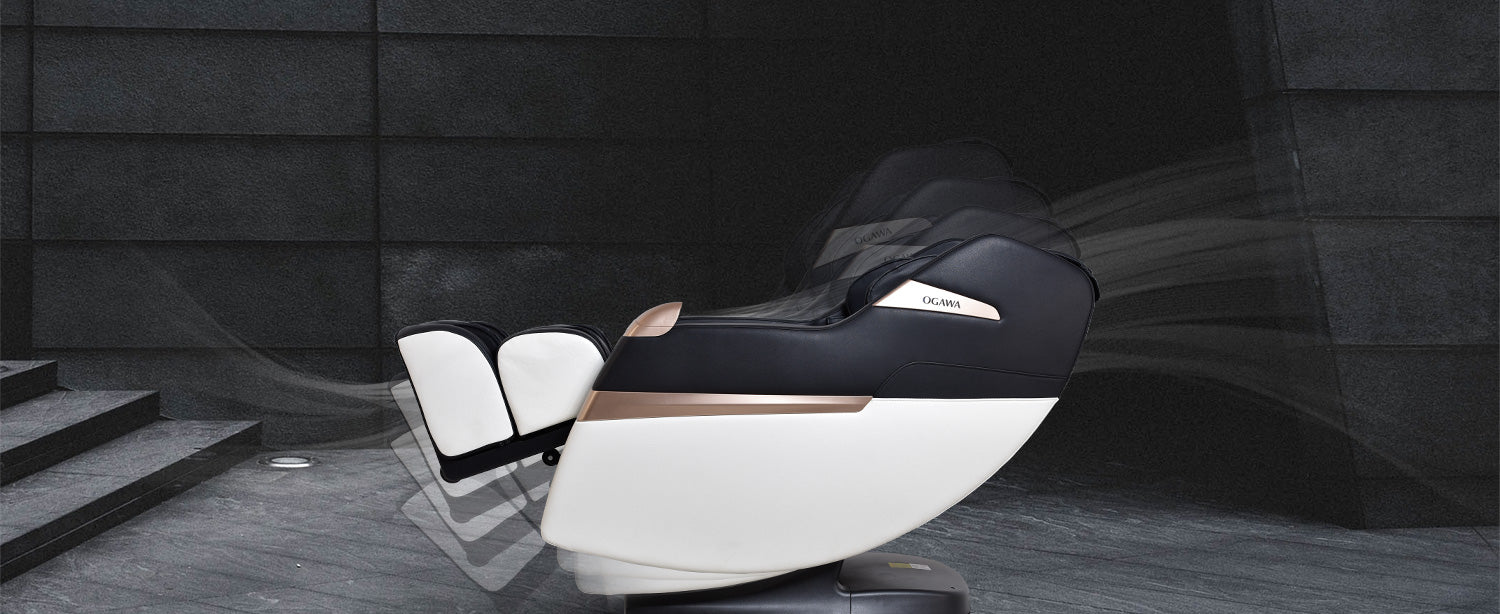 You've had the thought of a massage chair and now you can hardly let it go? That's good news, because massage chairs offer you many possibilities for use in areas such as these:

As a palliative measure against the effects of poor posture
or "classic" for tension pain in the neck or back
as support after physical activities or sports training
with stressed feet, legs or hands or also water in the legs
in old age with decreasing mobility in retirement
Important questions
Buying a massage chair needs to be carefully considered. Should it be about your back, your neck, or rather your hands and feet or just the whole package, as we usually call it? Ask yourself the following questions to get clear about your ideas
What are my specific requirements for my massage chair?
The requirements for a chair differ significantly for different areas of application. Is it about rest, mental switch-off and relaxation with a relaxation massage or perhaps rather an efficient and more powerful massage after physical activity, such as sport, among other things? We often talk about comparing apples and pears. What looks similar and appears to be "the same" sometimes has greater differences than expected.

In addition, it is relevant to know whether you want to use the chair for yourself alone or whether other people also want to use the chair and the requirements are also different.
What about your physical conditions?
Especially when taking into account the body size, some models can fall out of the selection. From a height of 1.80 m, not all models reach the neck extensively. On the other hand, if you are less than 1.60 m tall, it is more difficult to find a suitable model for a sensible foot reflexology massage.There are also weight restrictions to consider: Some chairs are only designed for a body weight of 90 kg, others for 110 kg and a few for 120 kg or even 150 kg. But the good news is that we have something for everyone in our wide range.But it's not just height and weight that matter, something supposedly not taken into account much, such as shoulder or calf width, can also play a considerable role if you're out of the ordinary with XXL or XXS. If you have rather broad shoulders, this should be taken into account in the consultation process just as much as the opposite example of rather narrow shoulders or calves.Furthermore, any physical limitations as well as previous illnesses or mobility restrictions are of great importance when choosing a massage chair. But here, too, you will find something for wheelchair users or osteoporosis sufferers in our range.
The installation site
When it comes to wishes and requirements, one not insignificant aspect is often raised: the installation site.

The place where your massage chair is to be placed later should be well considered. Almost every armchair can find enough space on approx. 2 × 1 m to be positioned without any problems. But even if it's a little tighter, we're sure to find a suitable model for you. Our recommendation: place it where you will use it most often and get the most added value for yourself.

Most models now have so-called zero wall technology, which means that the chair can be placed close to a wall (5-10 cm). However, a few models require up to 40 cm distance from the wall behind them. This must be taken into account.

Narrow access routes or winding staircases can be a real challenge and the classic narrow doors with a width of less than 80 cm should be taken into account in advance. If things do get tight, we can also come with an external lift or crane that can also lift an armchair through the skylight.
Optics and design
You should also think about the design and the choice of colours and, if necessary, come to a consensus with your partner. You are sure to find both the right design and the right colour in our exhibitions.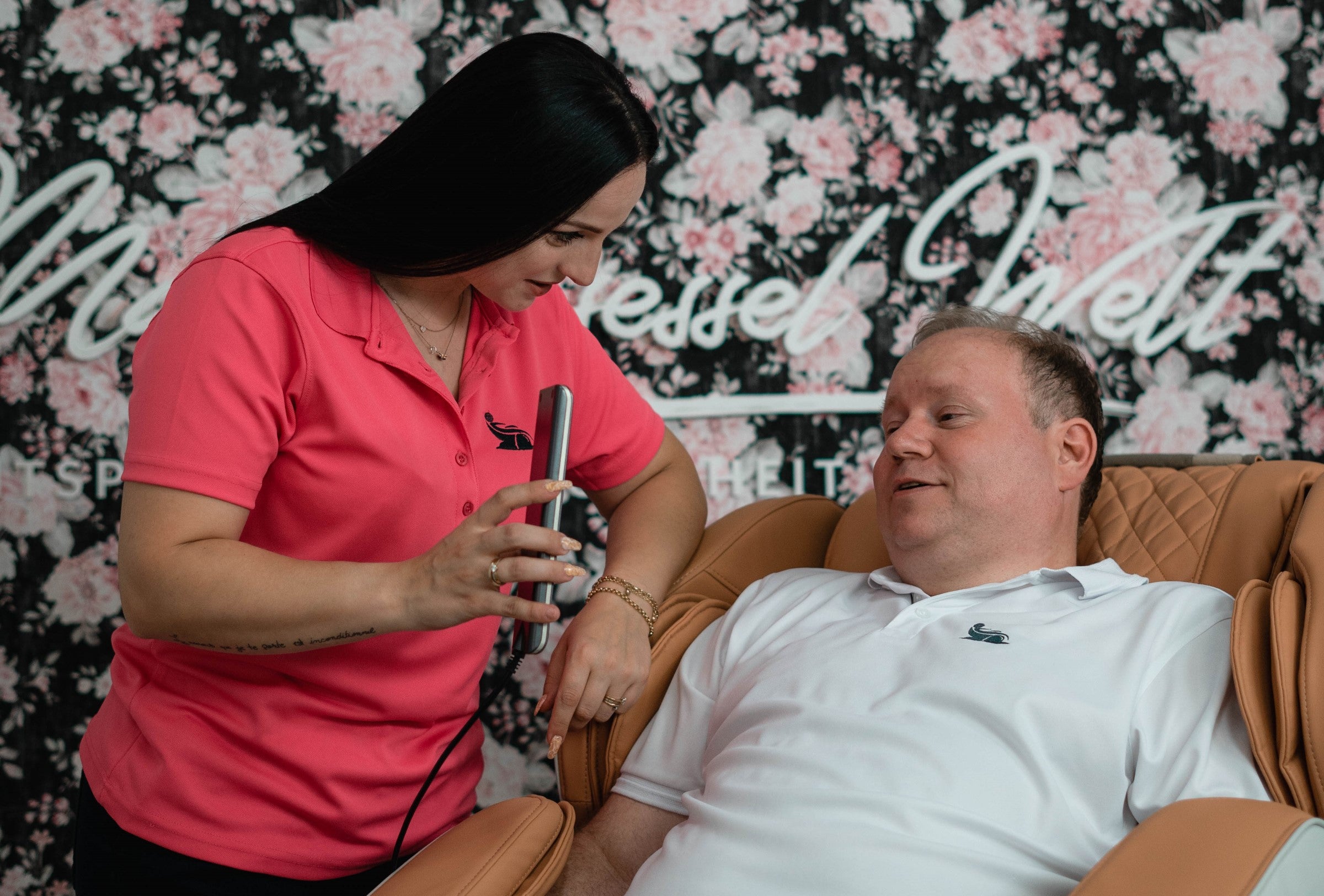 Once the first basic questions have been clarified or at least already considered, the next step is the consultation.
Brand-independent advice
The more information you can give us about your wishes and ideas, the better we can respond. And even if you are completely open to suggestions or ideas, we are sure to find the right massage chair for you in dialogue.
Which brands does Massagessessel Welt carry?
With over 18 brands and well over 60 different models in our showrooms and online, we at Massagesessel Welt offer by far the largest selection in Europe and consequently also in the German-speaking countries. We look with amazement at our competitors in the market, who allegedly have the largest exhibition in Germany with a significantly smaller selection. Your advantage with the large selection: we offer several alternatives in every price range and functional focus that can meet your wishes and needs.

Online, you will find detailed information about our massage chairs on the respective product pages.
Telephone, video and online chat counselling
And if something is not 100% clear and understandable to you, we are available to answer all your questions via live chat, on the phone or via video chat.

Your advantage with the large selection: we offer several alternatives in every price range and functional focus that can meet your wishes and needs.
Test sitting - of course
You want to make an appointment right away? Then look here!

In our exhibitions in Leverkusen and Weinstadt near Stuttgart we take enough time for you and your request. All appointments in our exhibitions take place only for you - and whoever you want to bring along. We take extensive time (please allow approx. 90 minutes) to clarify all questions without exception, to test relevant models or to explain the know-how and technology of the massage chairs.

We show you openly and honestly under which models are currently in our exhibitions for test sitting and do not lure you like some competitors with inaccurate information to us.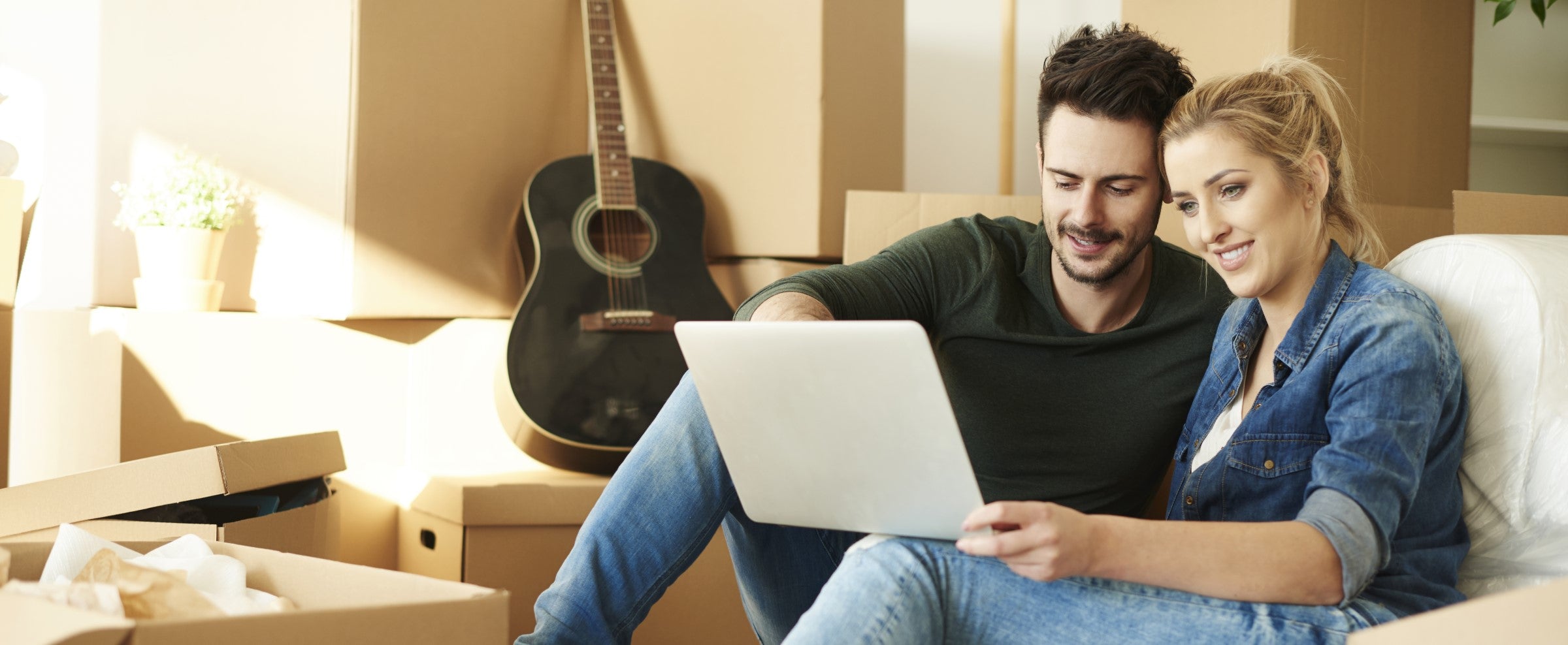 After a successful search and clarity about which massage chair it should be, the ordering process begins.
Online and also in specialist shops
Online order
For online orders, we offer the usual payment options, such as PayPal, Klarna or or instant bank transfer. You can also pay by credit card or classic bank transfer without any problems. Of course, the 14-day right of withdrawal applies to online orders. But with our advice, you can be sure that you won't make a mistake. Everything you need to know about our terms and conditions can be found openly and transparently here
Order in the shop (exhibition)
An order in one of our exhibitions looks a little different. Together we fill out the order form, go over delivery and shipping in detail and here, too, several payment options are available.

In addition to ec or credit card payment, we also accept bank transfer and also payments in cash.
Instalment purchase
For private customers, we also offer the option of buying in installments, with a term of 12-24 months even at 0% interest and no processing fee. Longer terms at attractive conditions. You can read more here: [Link]
Leasing and short-term rental
If you are looking for massage chairs for your company or business, we offer purchase on account and attractive leasing or hire purchase.
Step 4
Delivery and assembly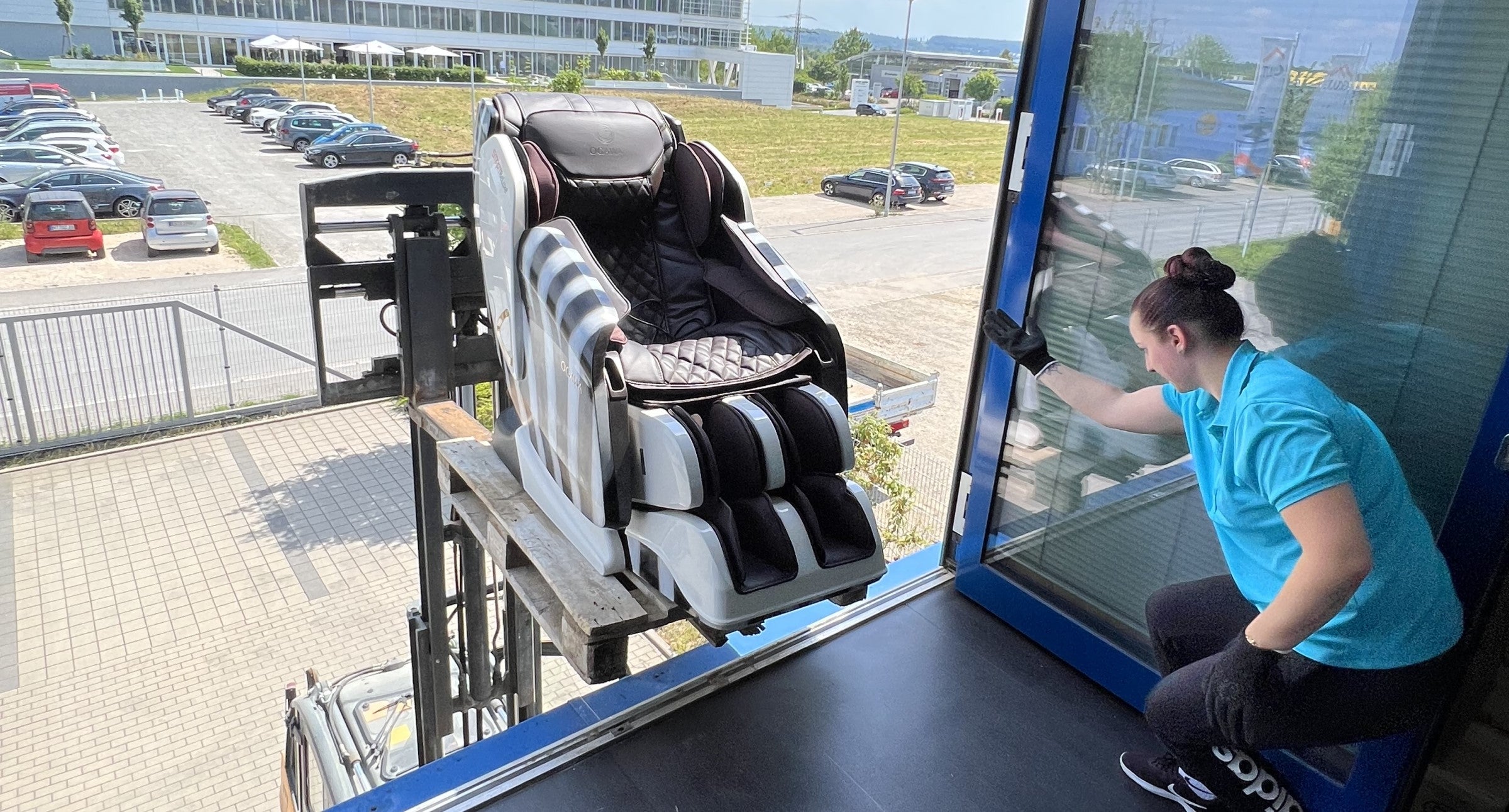 The shipping and delivery of a massage chair needs to be well planned. We usually ship our massage chairs from our own warehouse and not as direct deliveries from the wholesaler like some competitors. This allows us very short delivery times of 3 to 5 days. You can find out about the actual stock and delivery time on the respective product pages; here too, we play our cards close to our chest and tell you what's going on.
Our delivery options
Standard shipping
In cooperation with the shipping company DACHSER, we take care of the shipping and give you a reliable possible delivery time during the purchase process. Once the massage chair is on its way to you, you will of course receive a notification to coordinate the exact day and time of delivery. Here you have the choice between SMS, e-mail notification with online appointment booking or a personal telephone call from DACHSER: In our standard delivery, your massage chair is delivered "free kerbside". This means that the forwarding agent literally places the chair at the side of the road in your flat or house. This does not include any further transport to a garage or house entrance. It is now your task, together with a strong helper, to remove the packaging from the armchair and to bring the parts to the place of installation and, depending on the model, to carry out the necessary final assembly. Depending on the model, this may range from plugging in the power cable to screwing on the side and foot sections. Finally, you have to dispose of the outer packaging (cardboard, plastic and sometimes wood). However, we ask you to keep this packaging during the 14-day cancellation period to make it as easy as possible for you to return the product if it is not necessary. In contrast to some of our competitors, the packaging is not required for your warranty.
Premium shipping
In addition to our standard delivery, which is already included in the product price, we also offer a very affordable PREMIUM delivery option for a flat rate of 299.- € nationwide. In this case, you only have to hold the door open for us and we take care of the rest. In advance you will receive a questionnaire from us, to clarify the last meters to the installation site and the condition of your premises. Here we ask you about door widths, number of steps, or floors that need to be overcome. [LINK to questionnaire].

We will then coordinate the installation date with you, which normally takes place within 1-3 weeks.

Permanent employees of Massagesessel Welt and no outside assemblers deliver your massage chair themselves and bring it to its intended place.

Important: Please be very precise with the information about door widths and possible steps and stairways to be overcome, so that we do not experience any surprises.

If we know in advance, delivery to a balcony or attic is also possible with the help of an outside lift or crane.

After the massage chair is built, assembled and ready for use, you take a seat and all functions of the chair are checked. We also take care of the proper disposal of the packaging and the relaxing massages in your home or business can begin.
Welcome box
To make the set-up as easy as possible for you, every customer receives a welcome box from us, matching the respective massage chair model.

Among other things, it contains helpful information on assembly, such as links to assembly videos, the Bluetooth code of the respective model and, as a special highlight, a cleaning and care product set with stain protection [link] as well as a fitness mat so that you can tame the intensity of each chair model in a very targeted way.

Attention for corporate customers: Long-term disinfectant [Link] and hygiene products such as head pads and booties/overshoes are also included in a practical cleaning and hygiene box to give them and their employees a safe and germ-free start to relaxation.
Step 5
Warranty, service and maintenance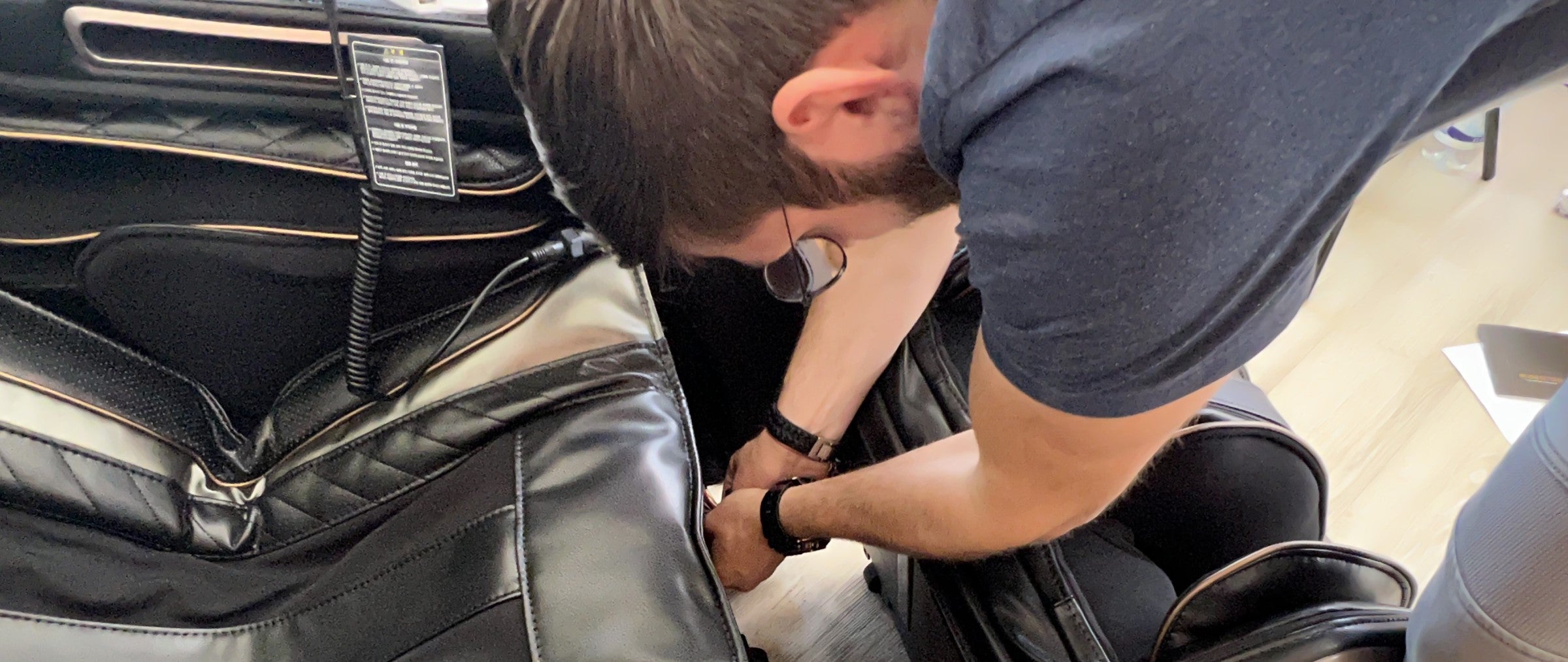 Our guarantee runs for a minimum period of three years as standard and is valid at your specified installation site in Germany, Austria or Switzerland - for all our massage chair models, without exception.

You don't often find a guarantee offer like this.
We won't let you down when it counts
Error or problem
In case of errors or problems, the procedure is very simple and direct: contact us, whether by phone or e-mail, and we will try to isolate the problem and fix it. If it is unavoidable that a repair is due, we will undoubtedly take care of it and send our own service staff on the road to do it. As a rule, this happens 1-3 weeks after you have contacted us. If a repair is not expedient or a replacement is unavoidable, we will also send our own service personnel to you and arrange for a replacement.

So there is no need for you to keep the packaging for years or to worry about sending it in. We think you won't find this kind of customer-oriented service everywhere.

An extension of the guarantee to five years is possible for an additional charge and gives you five years of worry-free security.

And we add one more on top: for your safety. We have insured ourselves with a service company and a large insurance company to minimise any risk and to take away the worry of depending on us.
Maintenance
You wonder how often you have to maintain a massage chair? There is a simple and, we think, pleasant answer to this question. Because a massage chair does not usually require any technical maintenance for private use.

We compare the effort with that of a washing machine: here, too, a lot of things turn and there are bearings and seals. But let's be honest, how often have you subjected your washing machine to technical maintenance?

Of course, it can make sense to check here and there every few months, especially after intensive use, to see if there are any visible changes. However, with regular and proper use, there is nothing to prevent your massage chair from having a long life.

In rare exceptions, it can happen, for example, that the manufacturer did not apply enough oil to the machinery during production and the massage chair may squeak slightly. In these cases, we will of course send you some more oil and instruct you in its use, or we will come by in person.
Cleaning and care
You will find sufficient information and tips on cleaning and care in our welcome boxes. In short, however, it is sufficient to clean your massage chair at regular intervals or, if necessary, on the plastic surfaces with an alcohol-free glass or universal cleaner and to apply a protection for the artificial or genuine leather at intervals of 4 to 6 months. If you have a remote control or tablet, make sure the cloth is not too damp. That is all.

Important: when cleaning, please do not use any cleaner with alcohol or abrasive cleaners.